Episode Details
Release Date
Runtime
1 hour, 13 minutes
Previous Episode
Episode 221
Intro Music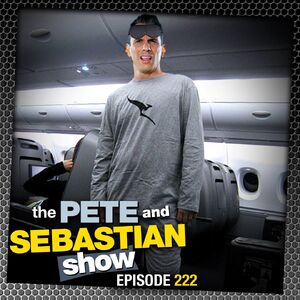 Pete has more trouble with different neighbors and Sebastian tells of his adventures down under!
Topics discussed
Quotes from the episode
Sebastian: I was so proud of myself wearing 2 outfits for travel
Sebastian: No no, I gotta go to the bathroom to change into my plane wear
Pete: They go; What are you bringing back? Just memories, baby.
Pete: You can't expect anyone to know that-you're psychotic!
Pete: I'm surprised he didn't have one of those chips on the end of his phone!
Sebastian: OK everybody buck up $68 for the solo cups and chicken I bought.
DJ Lou: One time there were farm animals in here with the people
Pete: We've all had just about enough of you around here
Sebastian: You're leaving that in, by the way.
Sebastian: This is like farm people.
Sebastian: Man you're really living of the land over there.
Pete: Anderson cooper doesn't travel this much!
Ad blocker interference detected!
Wikia is a free-to-use site that makes money from advertising. We have a modified experience for viewers using ad blockers

Wikia is not accessible if you've made further modifications. Remove the custom ad blocker rule(s) and the page will load as expected.