Episode Details
Release Date
February 26, 2016
Runtime
55 minutes
Previous Episode
Episode 208
Intro Music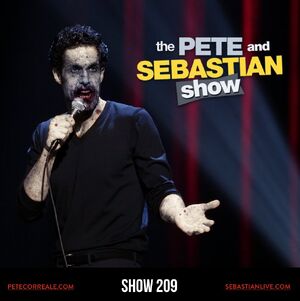 Sebastian reveals the iconic actor who will play his sitcom father and Pete delivers an ode to The Walking Dead!
Topics discussed
Sebastian just got out of a float tank
Also up on the cleanse
Sebastian underwhelmed with Hawaii, Pete not into the Hawaiians
A successful businessman gives Sebastian his autobiography, Pete is unimpressed.
Sebastian tells the story of talking to Tony Danza on the phone
Pete learns of direct messages on Twitter
Pete has submitted his audition to Sebastian's show, with impressive production values
Pete experiences the singular greatest 1 hour television experience of his life
Pete's wife refuses to see if "the dog will come out of the doghouse"
Pretty Berg Amburg from the Comedians book stabbing Milton Burle
Quotes from the episode
Sebastian: We've got a guest?" Pete: "Yeah, a six pack of blue moon!"
Pete: "I don't like you, right now. I don't like this guy. Way too Tony Robbins for me."
Pete: "I'm not really into the Hawaiians, man."
Sebastian: "Can you believe this is happening?!"
Sebastian: "What do you think the second greatest show of all time is?" Pete: "Shit, Magnum PI"
Pete: "I'm covered in the guts with them, Bro!"
Pete: "Imagine if I died, and I still had 2 episodes of TWD left, I'd be so pissed!"
Pete: "Give a little rub, see if the doggy comes out of the doghouse!"
Pete: "It's like my Beethoven!" (listening to "Big T" Trump speak for him)
Ad blocker interference detected!
Wikia is a free-to-use site that makes money from advertising. We have a modified experience for viewers using ad blockers

Wikia is not accessible if you've made further modifications. Remove the custom ad blocker rule(s) and the page will load as expected.