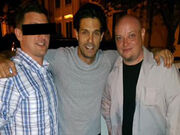 "DJ Lou" Witzki is the producer of the Pete & Sebastian Show. He does the audio edit and mixing, injects music and sound for effect, as well as original content, "DJ Lou's Show-Within-A-Show". We don't know much about DJ Lou, but we do know this:
He previously worked for Rosie O'Donnel
He smokes
He is bald
He's a huge Pearl Jam fan
Ad blocker interference detected!
Wikia is a free-to-use site that makes money from advertising. We have a modified experience for viewers using ad blockers

Wikia is not accessible if you've made further modifications. Remove the custom ad blocker rule(s) and the page will load as expected.